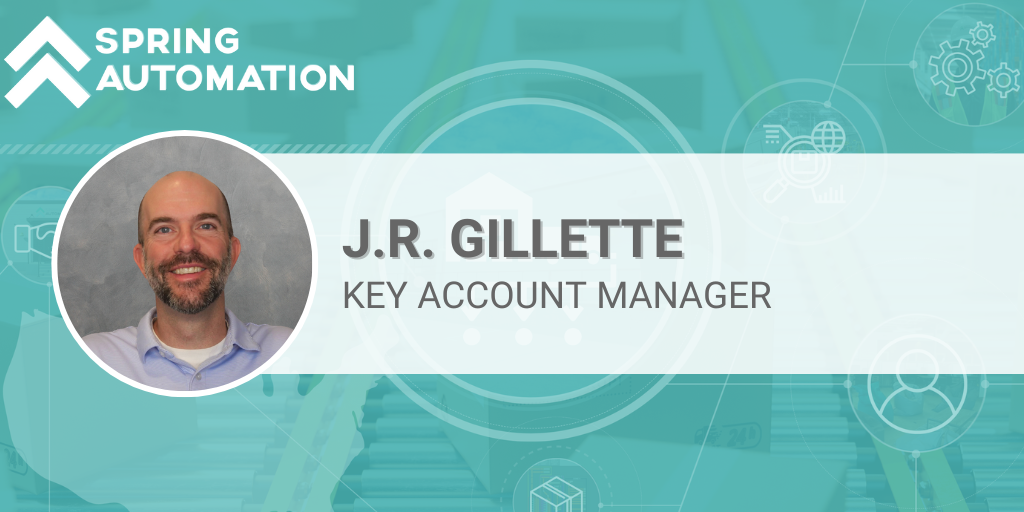 Press Release
July 18, 2023
J.R. Gillette Joins the Sales Department at Spring Automation. 
Spring Automation is pleased to announce the addition of J.R. Gillette as Key Account Manager.
Nashville, TN — Tuesday, July 18th, 2023 — Spring Automation is pleased to announce the addition of J.R. Gillette to the Sales department as Key Account Manager. J.R. will be vital in retaining top customers and nurturing key relationships. His position will be responsible for building long-term, strategic partnerships with both new and existing customers. He will be able to identify needs and requirements to promote Spring's solutions and achieve mutual satisfaction. The goal of the position is to contribute to sustain and grow business to achieve long-term success.
J.R. is a native Middle Tennessean living in Spring Hill with his wife and son. He received his degree in Electrical Engineering from Tennessee Tech but claims not to be a good engineer and decided to go into industrial automation sales instead. His professional career has primarily centered around solving machine vision, bar code reading, and robotics applications. While his expertise is in machine vision, in the last few years, he has started balancing his focus on the emerging collaborative and autonomous mobile robot markets, seeing considerable success in these areas. A former colleague who started working at Spring Automation introduced him to the company and indicated what a fun, growing atmosphere it is. J.R. began looking into Spring's capabilities and culture and developed an interest in joining the team. Ultimately, an opportunity arose, and he jumped on it. His interest in the material handling industry was sparked by working in factory automation for 17+ years. He worked with automotive, munitions, aerospace, food and beverage, and medical suppliers; you name it, he has probably seen it! He states, "The material handling industry, in many ways, ties these industries together. I wanted to expand my understanding of this space and bring my factory automation experience to Spring and our customers."
J.R. advises someone starting their career: "Work hard, be persistent, and never stop learning. If you do these three things, success and satisfaction will follow." J.R. describes himself as optimistic, honest, and humorous. J.R. is an open book, so there is little that people don't know about him. Still, a fun fact is his high school soccer team played several matches in England, technically making him an international player— don't ask him about the scores or how much playing time he got. J.R.'s favorite hobby is coaching, playing, and watching soccer. Teaching the fundamentals of the game and watching players develop gives him a great deal of satisfaction. J.R. enjoys reading philosophy, religion, politics, economics, and history.
Schedule a time to meet J.R. or set-up a call by connecting at [email protected]
---
Spring Automation provides material handling controls, software, and installation services to end-users, integrators, and OEMs across North America. We specialize in bringing our customers high-quality and dependable programming, design, and build solutions for their projects.
At Spring Automation, we are a family by our shared purpose: To Have Fun Building Legacies Together. We are a team that loves each other and what we do. We design and implement high-quality controls solutions. We strive for growth through diversification while maintaining a culture of teamwork and innovation. Whether we are serving our customers, community, or family, we take pride in everything we do. When we win, we win together.
Connect with J.R. on LinkedIn or learn more about opportunities and company news at Spring Automation by visiting our Career Page.