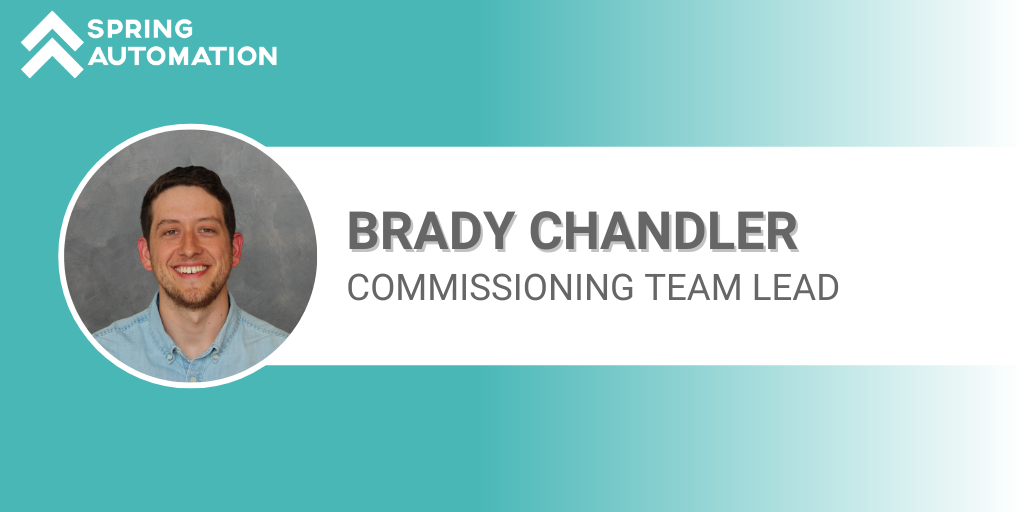 Press Release
July 12, 2023
BRADY CHANDLER PROMOTED TO COMMISSIONING TEAM LEAD
Spring Automation is pleased to announce internal advancements within the Engineering department.
Nashville, TN — Wednesday, July 12th, 2023 — Spring Automation is pleased to announce the promotion of Brady Chandler to Commissioning Team Lead. Brady graduated from Union University in Jackson, TN, with a degree in Electrical Engineering. He heard about Spring Automation through a Union University alumnus promoting the internship to his dean. Brady started as an intern and has held various roles over six years, including Controls Engineer, Project Manager, Scrum Master, and Engineering Lead. As Commissioning Team Lead, he is responsible for leading a team of engineers, supporting their career growth, and offering support and guidance when needed. Brady's experience in wearing multiple hats over the years has made him a well-rounded Engineering Team Lead. He is most looking forward to getting to know a group of coworkers that he has not spent much time with over the years. He is excited to build relationships with people and support their career growth. He is also looking forward to making improvements to their roles.  
Brady speaks about Spring Automation as "a place that I have now spent six years at, and I have seen it grow and morph in so many ways. Spring Automation has been good to me and has helped me grow as an engineer and a person in a way I can't imagine other companies would be able to. I'm thankful for my time here." Brady values the culture at Spring Automation, where coworkers genuinely care about each other as people and care about your family as much as a project. 
Brady describes himself as hard-working, creative, and goofy. Brady is married to his high school sweetheart and has two little girls. When he does have free time, you can find him playing disc golf, kayaking, playing games with family and friends, or listening to music. A fun fact about him is that he took piano lessons for eight years growing up and makes wedding videos as a side hustle.
---
Spring Automation provides material handling controls, software, and installation services to end-users, integrators, and OEMs across North America. We specialize in bringing our customers high-quality and dependable programming, design, and build solutions for their projects.
At Spring Automation, we are a family by our shared purpose: To Have Fun Building Legacies Together. We are a team that loves each other and what we do. We design and implement high-quality controls solutions. We strive for growth through diversification while maintaining a culture of teamwork and innovation. Whether we are serving our customers, community, or family, we take pride in everything we do. When we win, we win together.
Join Brady and learn more about opportunities and company news at Spring Automation by visiting our Career Page or our LinkedIn Page.