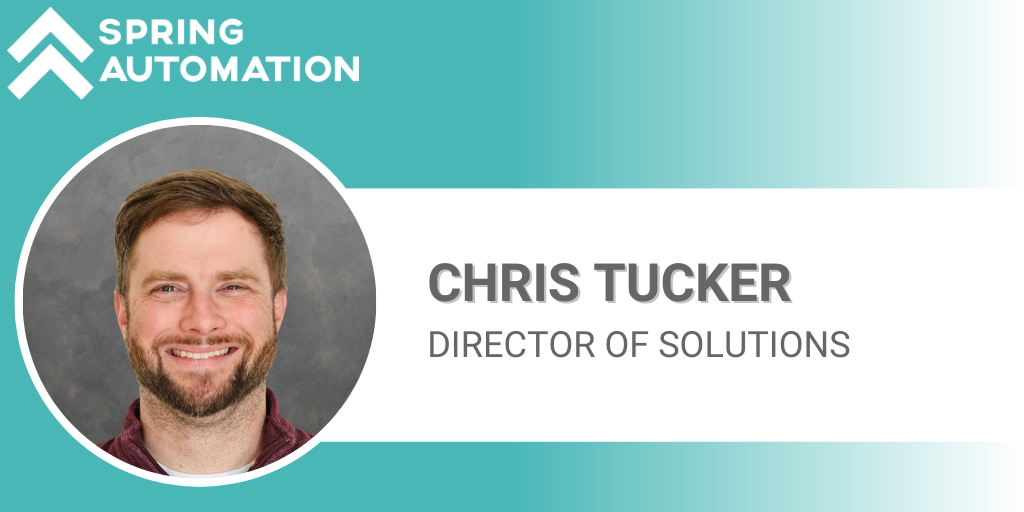 Press Release
April 18, 2023
CHRIS TUCKER JOINS THE SOLUTIONS DEPARTMENT AT SPRING AUTOMATION
Spring Automation is pleased to announce the addition of Chris Tuckers as Director of Solutions.
Nashville, TN — Tuesday, April 18th, 2023 — Spring Automation is pleased to announce the addition of Chris Tucker as Director of Solutions. Chris now oversees and directs the concepting, writing, and delivery of our solutions and proposals. The Director of Solutions is a driving force behind Spring Automation's consulting and estimating department. In his role, he will focus on driving down engineering and lead times while building positive relationships with key partners. Chris will significantly impact our direction for successful project execution and account growth. In addition, he will be a crucial component of our client interactions.
For most of Chris's career, he has been in an Applications Engineering role. He has worked in various industries, from rubber products to seals & bearing to automated device assembly lines. Chris would advise someone starting their career: "Be quick to learn and slow to speak, but when you do speak, trust yourself and speak confidently. It is ok to make mistakes but make sure you learn from them. Surround yourself with people invested in both your professional and personal growth and well-being." Chris has always loved problem-solving and understanding how things work. Chris's dad is also an engineer and believes engineering has always been in his blood. However, due to his extroverted personality, Chris has been more on the customer-facing side of engineering.
Chris describes himself as outgoing, a coach, and positive. You can find him coaching his son's sports teams, playing disc golf or board games, or at Disney for a vacation. A fun fact about Chris is that his family was the grand marshal of a Disney Magic Kingdom parade. Chris was drawn to the teamwork environment and driven people at Spring Automation, and he is excited to start his journey.
---
Spring Automation provides material handling controls, software, and installation services to end-users, integrators, and OEMs across North America. We specialize in bringing our customers high-quality and dependable programming, design, and build solutions for their projects.
At Spring Automation, we are a family by our shared purpose: To Have Fun Building Legacies Together. We are a team that loves each other and what we do. We design and implement high-quality controls solutions. We strive for growth through diversification while maintaining a culture of teamwork and innovation. Whether we are serving our customers, community, or family, we take pride in everything we do. When we win, we win together.
---
Join Chris and learn more about opportunities and company news at Spring Automation by visiting our Career Page or our LinkedIn Page.